Bioidentical Hormone Replacement Therapy
Bringing balance back to your life.
Conventional hormone replacement therapy (CHRT) usually involves estrogen replacement, while some women may use a combination of estrogen and progesterone. These hormones are often used to treat menopause symptoms or to lower the risk of osteoporosis. In alternative medicine, Bioidentical Hormone Replacement Therapy, or BHRT, is natural hormone therapy for men and women. BHRT generally utilizes siz hormones, including estrone, estradiol, progesterone, testosterone, dehydroepiandrosterone (DHEA) and estriol. These hormones are used to treat menopause symptoms, as well as other issues such as anti-aging, improved energy levels, better sleep, increased libido, mood stabilization, better muscle tone, loss of body fat and lower blood pressure and cholesterol levels.
An overview of BHRT
Many people believe that hormone levels in women remain normal until menopause occurs after age 50. In reality, these hormones may decrease as early as age 30 and will progressively decrease through the commonly accepted age of menopause. Symptoms of hormone deficiency may include:
hot flashes;

night sweats;

sleep disturbances;

mood swings;

weight gain;

vaginal dryness;

migraines;

palpitations;

and a thinning of your hair and bones.
As women age, the natural depletion of these hormones is compounded by additional changes related to childbirth and menopause.
Hormone Health and Weight Loss will treat the actual cause of your symptoms and will restore your depleted hormone levels. Your hot flashes should be reduced and may possibly be eliminated. With a healthy diet and a regular exercise routine, you should experience weight loss, improved elasticity of your skin, an enhanced sex drive and more energy. Your overall risk for osteoporosis and health disease may also be reduced.
How long will it take me to feel better?
Predicting exactly how long it will take to recover from a hormone imbalance is difficult. You may start to feel better quickly, even within a few days, depending upon the problem, the exact treatment, and your own body's reaction. Your absorption rate of the hormones will affect healing time. Within a few weeks, you may find your sleep and energy levels are better. Most people improve with a few months of starting treatment. However, three to six months of consistent BHRT may be needed to properly balance your hormones.
Also, finding just the right dosages and combinations of hormones for you can require some treatment changes, which can lengthen the time needed to fully recover. After each dosing change, give yourself time to adjust and them consider if that level is right for you.
Benefits of Biodentical Hormone Replacement Therapy in Men
Improves energy levels
Increases muscle mass and tone
Increases exercise endurance
Improves fat lose and muscle tone
Improves sex drive and performance
Improves memory and concentration
Improves sleep
Re-grows hair on the scalp
Decreases joint pain and muscle aches
Improves bone strength
Improves cholesterol levels
Protects against heart disease
and much more!
Benefits of Bioidentical Hormone Replacement Therapy in Women
Eliminates night sweats
Eliminates hot flashes
Eliminates vaginal dryness and itching
Eliminates pain with intercourse
Improves energy levels
Improves fat loss and muscle tone
Improves sex drive
Improves mood
Improves memory and concentration
Decreased skin wrinkles
Protects bones from osteoporosis
Reduces risk of heart disease
and much more!
What you can expect
Once your physician has decided that you may benefit from Bioidentical Hormone Replacement Therapy, Forest Heights Pharmacy will begin working with you and your physician to establish the best treatment for your individual needs. We would love to hear from you. Keep us updated on your progress.
The following is a list of things that we will need from you, the patient, and what you can expect throughout the duration of your therapy:
Evaluation
You will complete the hormone evaluation and medical history packet and return it to your physician's office or you may bring it to the pharmacy.
Physician Recommendation
Your physician will send us the necessary information that we will need to establish a plan of therapy for you. This includes labs and any other information relevant to his or her decision to start you on BHRT.
Patient Consult
We will contact you for a consultation which may be over the phone or in person, whichever you prefer.
Physician Consult
After speaking with you and gaining a better knowledge of what you are hoping to improve with BHRT, we will them contact your physician to discuss the best treatment option for you.
Compounding
Once your physician has approved the treatment and provided us with a prescription, we will compound your medication.
Prescription Ready
You will receive a phone call from one of our staff members once your compound is ready for pick up. We will be glad to mail you the compound (in the state of Georgia only) for a minimal fee. We also provide FREE in town delivery to Statesboro residents.
Refills
The compound will be prepared to meet your specific needs. Please notify us 24 hours in advance for refills to ensure that we have an adequate amount of time to prepare your compound.
We look forward to serving you, and helping to improve your quality of life.
Solutions catered to your needs.
Compounding may also be used for other reasons, such as changing the form of the medication from a solid pill to a liquid, or to remove a non-essential ingredient for which the patient is allergic. It can also be done for more personal reasons, like changing flavors or textures of a medication.
Whether you need hormone replacement therapy, have a pet with specialized medication needs, or have allergies to certain medications, our pharmacists can consult with you and create a custom compounded solution catered to your specific needs.
100% satisfaction guarantee.
As your compounding pharmacy, we guarantee your satisfaction. Our team of pharmacists and compounding technicians are well trained and always willing to discuss any questions or concerns that you may have. If at any time you become dissatisfied or have an issue with your compound, please let us know. We will take every step possible to address and resolve the issue. Your health and well-being are of utmost importance to us. We strive to stay on top of technology improvements and medical advancements through continued education, so that we can provide the most advanced service and compounds to our customers.
Potency Testing
At Forest Heights Pharmacy, we are committed to providing our customers with the highest quality products available. Potency testing is anouther important process for us. At random we will select a certain batch of a compound and send it to Eagle Analytical Services for potency testing. This process ensures us that we are dispensing exactly what we say we are. The ingredients and chemicals that are used in our lab are from the best manufacturers on the market. Quality is never compromised due to cost. Your health and safety are our #1 priority!
Evaluation and communication
A close relationship with your physician and his or her office staff is vital for the success of your treatment. We will communicate closely with your practitioner to ensure that they are receiving all the necessary information relevant to your treatment. Practitioners are encouraged to monitor your hormone levels through the appropriate labs a minimum of every six months. The labs will be forwarded to us where our pharmacist will evaluate them and determine if your dosage needs to be adjusted. We look forward to building a relationship with you and improving your quality of life.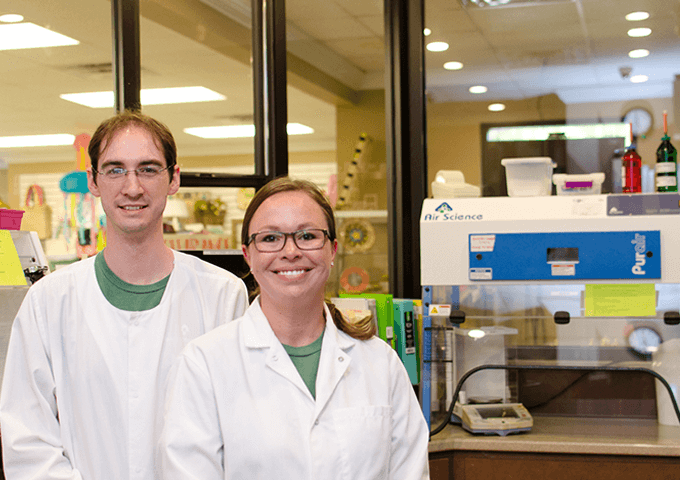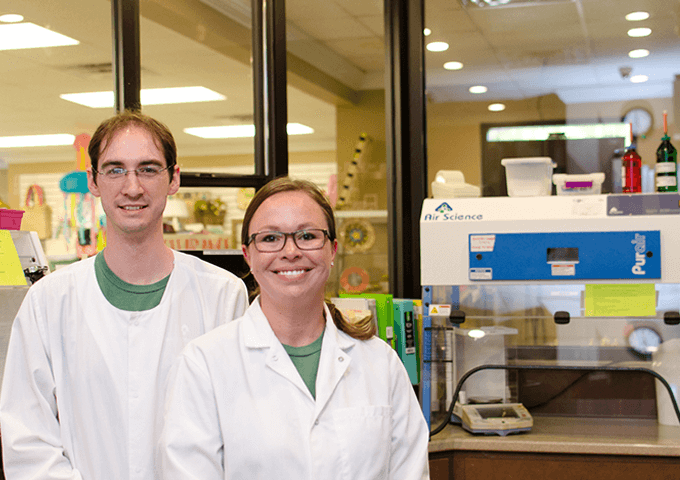 Questions? Get in touch!
Come see us for a complimentary consultation with one of our pharmacists, and let us help you with all of your medication needs.
Email us at compounding@forestheightspharmacy.com