• Mon – Fri 8:30 a.m. – 6:30 p.m. / Sat 9 a.m. – 1 p.m.• Refill your prescriptions by calling us @ 912.489.7979. Have your medication info ready.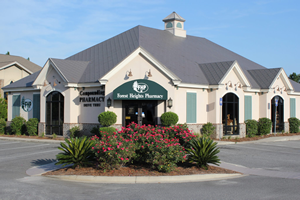 WELCOME TO FOREST HEIGHTS PHARMACY
Walk-in FLU SHOTS any time…no appointment needed!
We are now billing Medicare for Flu shots so NO COST to you!
We are a full service COMPOUNDING PHARMACY, enabling us to make personalized medications for all your needs. This includes hormone replacement therapy, pain management, veterinary products, individualized doses, flavoring, commercially unavailable products and much more.
Forest Heights Pharmacy and Gifts is an independently owned and operated pharmacy and boutique, making us different from big chain stores. We strive to meet each customer's individual needs and build one-on-one relationships, providing you with the care you deserve. Our pharmacy offers fast, friendly, and reliable service, a convenient drive-thru window, and ability to make arrangements to deliver your medicine if needed. Our boutique offers a wide selection of gifts, monogramming, and other unique items for every special occasion.
Forest Heights Pharmacy… where you get more than just a prescription!
Come see us for a complimentary consultation with one of our pharmacists, and let
us help you with all of your medication needs.